Artiklar med etiketten 'Consciousness'
First of all, it's smart – to conspire with God
I couldn't think of anything smarter than to conspire with God. God is your super power, the smarter (smartest) voice within, your coworker, CEO and mentor. Your guide. Tell me where you would be if God wasn't in your life? I can tell you, you weren't born.
So now that you obviously is here, the best you can do is to let go of your own ego and tap into the consciousness of the smartest one.
The guiding will always be the best. The path gets clear. Although you can't see all the steps, all the way, God will make sure you're on the right path. Always.
And for me it's about the deeper knowing that God got my back, that I'm safe and taken care of. And by knowing that – I become confident. And confidence gets me relaxed and feeling sexy. Sexy, in the meaning that I wear a secret nobody else can see.
Just ikväll var det extra fint för mig, jag inledde med att delta på OM (Oneness Meditation) klockan nio innan deekshan på distans. Det kändes starkt och närvarande som det oftast gör när jag ger Oneness Blessing. En väldigt fin stund. Tack till er alla som var med ♥
Existensen (kort nr 1 Stora Arkanan) var Osho-kortet jag drog inför deekshan ikväll.
Jag tänker på Oneness-mantrat
I am existence consciousness and bliss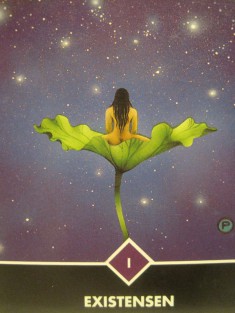 Den nakna gestalten sitter på fullkomlighetens lotusblad, skådande utöver natthimlens skönhet. Hon äger visshet om att "hemma" inte är en fysisk plats i världen omkring henne, utan en inre kvalitet av vila och accepterande. Stjärnorna, klipporna, träden, blommorna, fiskarna och fåglarna – alla bröder och systrar i livets dans…
I grunden är vår känsla av att vara åtskilda bara en illusion, skapats av sinnets inskränkta självupptagenhet. 
Nu är det dags att se efter om du tillåter dig själv att ta emot den sällsynta gåvan att känna dig hemma vart än du befinner dig. Om du gör det, se till att ta dig tid att njuta av det, så att känslan kan nå djupare inom dig…
Osho
Zen Tarot 
Happiness cannot be traveled to, owned, earned, worn or consumed.
Happiness is the spiritual experience of living every minute with love, grace and gratitude.
Denis Waitley
Inner resistance to whatever arises in the present moment pulls you back into unconsciousness.
Inner resistance is some form of negativity, complaining, fear, aggression, or anger.
This is important because whenever you complain about what somebody else does
you're already beginning to fall into that trap of unconsciousness.
Eckhart Tolle